The Chef behind the Chef's vodka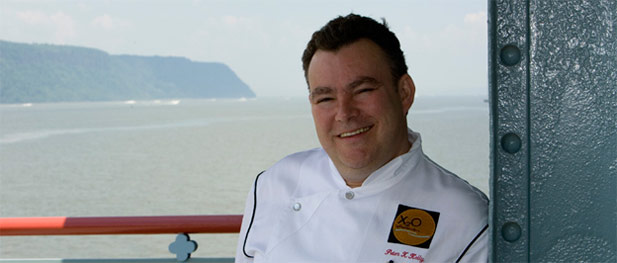 For three decades Chef Peter X. Kelly, driven by his passion, has set the standard for dining in New York State. Operating the most critically acclaimed restaurants in the Hudson Valley; Peter is an experienced, talented and successful entrepreneur. His Contemporary American Cuisine brings dining to a new level by providing his guests with exquisite food and superb service.
Born in Yonkers, New York, tenth in a line of twelve children, Peter began working in local restaurants at the age of 14. At 23, this self-taught chef opened Xaviar's in Garrison and began his journey to success. Peter owns some of the most renowned and acclaimed restaurants in New York State, all located in the Hudson Valley, north of New York City. Xaviar's at Piermont, The Freelance Cafe and Wine Bar, Restaurant X & The Bully Boy Bar, and X2O Xaviars on the Hudson have all received popular praise and the industry's most coveted awards and accolades includingThe New York Times highest rating (Extraordinary), The Mobil Travel Guide Four Star Award, The Dirona Award, Restaurant News Dining Hall of Fame, Wine Spectator's "Best of Award of Excellence", Zagat's Survey (29 out of 30), NY State Restaurateur of The Year 1998.
Peter has been featured in numerous national publications including: New York Magazine, Esquire Magazine, Crain's, USA Today, W Magazine, Food Arts, Gourmet Magazine, Wine Enthusiast, Food & Wine and Bon Appetit.
Peter has been invited to cook at The James Beard House, appeared on the Food Channel TV Network, as well as numerous appearances on CBS and NBC. Peter has also been nominated for the prestigious James Beard Award for Best Chef Northeast.
In 2007 Peter appeared on the Food Networks Iron Chef America and beat Bobby Flay in the Battle of the"Cowboy Rib Eye"; he also played host to Anthony Bourdain on his "No Reservations" program, introducing Tony to the beauty of the Hudson Valley.