Slovenia Cocktails
We begin with a crafted buckwheat spirit that makes Slovenia Vodka incredibly smooth;  a singular pleasure to drink neat, just chilled.
However, as lovers of both spirits and mixed drinks alike, we enjoy cocktails prepared in a way that utilizes the smooth neutral palate of our vodka, making it the perfect vodka for mixing creatively, as well as for pairing with a wide variety of culinary experiences.
Please check back regularly for our latest creations. And if you have a favorite creation of your own, please submit it to our contact us page.  You may see your cocktail creation featured here with your name.

Slovenia Vodka Neat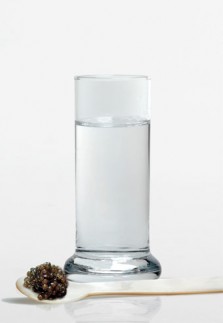 … or all you need is "slove."
Sommelier Billy Rattner:
"First impression of ample aromatics offer pure floral, lemongrass hints with strong sweet wheat/cereal top notes. After taking some air; you find an alluring lemon zest and white pepper appear. Mouthfeel provides; a deliciously complete palate that is plush and almost viscous; quite round and smooth; the faintest elements of exotic lingonberry and soft anise-seed arise in the mouth; the spirit impresses with a velvety, driven purity."