Recipes
We proudly present unique and creative culinary creations paired with equally unique cocktail recipes by Chef Peter X. Kelly. Please check back regularly for our latest creations.

Butter & Vodka Basted Lobster
Butter & Slovenia Vodka Basted Maine Lobster with a Minestrone of Hudson Valley Vegetables – Basil Pistou
Recipe courtesy of Chef Peter X. Kelly – Xaviars Restaurants – Serves 2-4

Ingredients: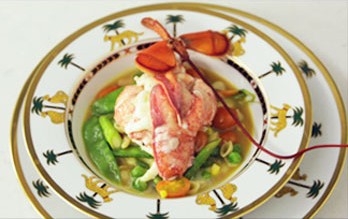 4 tablespoons Slovenian vodka
8 tablespoons butter,
cut in small pieces
2 – 1 1/2 lbs live lobsters
Snow peas – Blanched / Whole
English Peas – Blanched
Haricot Vert –Blanched / cut on bias
Heirloom carrot – halved
Fava Beans – Blanched
Corn – Blanched
Asparagus – Blanched / Cut on bias
Yellow Squash – Raw / Round mandolin thin
Sun gold Tomatoes – ½'d
Tiny Shell Pasta – Blanched
Rice Beans – Cooked in stock
**1 Pint Minestrone broth (Can be prepared the day prior)
***Ramekin of Basil Pesto served on the side
Method:
• Prepare all vegetables al dente
• Bring a large pot (8 quarts) of water to a boil
• Add lobster to pot and poach for 7 minutes.
Remove and refresh under cold running water until cool enough to handle.
Shell lobster and split tails in half length wise, reserve.
• Place a sauce pot over medium high heat.
• Carefully add Slovenian vodka to pot and ignite.
• Add butter to vodka 1 piece at a time swirling pan till all is incorporated and emulsified.
• Set butter aside and keep warm.
• Place the minestrone broth in a sauce pan and heat.
• Add 4 tablespoons of the emulsified Vodka butter to the broth to enrich.
• Add all vegetable ingredients to this pan to warm all.
• Add shelled lobster to pan with butter and under low heat warm through turning and basting.
• Place broth with vegetables in 2 large soup plates
• Spoon warmed lobster on top of vegetables
• Prepare a basil pistou and serve at table with lobster.